back
Face Recognition Terminal: SY Face 940
Synel's Face Recognition terminal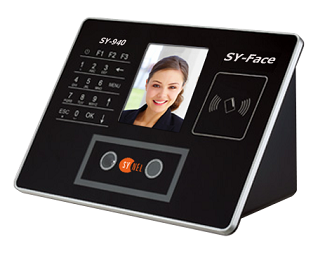 Synel's face recognition terminal, SY-Face, is an embedded face recognition software with leading "Dual Sensor" Face Recognition Algorithm, which is applicable for time attendance and access control applications.
The SY-Face are time and attendance systems and access control terminal that uses face recognition software technology to instantly identify users. The SY-Face provides a touch-free, hygienic alternative to fingerprint and hand readers, while still eliminating "buddy punching" and the need for cards or badges. Users simply look at the device and within seconds they are identified and either clocked in for work or granted secure access.
The terminal creates full security for your company
Face Recognition Software is Accurate
Dependable – Successfully deployed in challenging real time environments
Trackable – The only biometric attendance system method where the transaction records can be visually confirmed
Contactless – Non-intrusive, a non-contact verification process
User-friendly
Reliable performance
Multi factor authentication
Synel MLL Paydays' face recognition software and hardware designed for small, medium and large organization. Synel provides three different face recognition terminals with 300, 500 or 1200 face recognitions templates.
Synel face recognition terminal was developed using high level Microsoft tools, by working with the software the user may distribute the template from a specific terminal to other terminals according to the employee access permission.
SY-940 face recognition may be installed for time and attendance or access control terminal:
 Time and attendance the face recognition terminal may store the employees attendance data in off-line and on-line depend on the network connection, the terminal Entrance and Exit buttons may be scheduled and the available methods are:
Face recognition
Contact less Card identification
Card + picture
Code + Face
 Access control the terminal may work as a stand-alone terminal with door relay and door open button