back
Biometric Attendance System – Biometric Time Clock: SYnergy
The latest Technology Linux-based, Biometric Attendance System, Multimedia and Graphic Display Terminal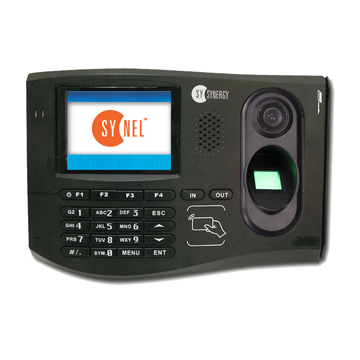 SYnergy terminal is Synel's latest Linux-based Biometric Fingerprint Time Attendance System – Biometric Attendance System, which combines a graphic color screen with technologically advanced features for all your time & attendance and access control applications.
The Biometric Time Clock Fingerprint Time Attendance system is also used as Access Control system.
Synel's Biometric Attendance System and access control system – SYnergy, is compact in size and attractively designed. It is also equipped with a built-in camera and a speaker for generating various sound effects such as alert notifications, report confirmation / rejection and other actions and events indications.
SYnergy can be linked to a variety of networks in your organization to complement the management information systems that are already in place.
Embedded Linux Open Source OS
Powerful processor
Fast matching time
Improved ROI
Fast / multiple identification methods
Compact and attractive design
Synergy terminal designed for Biometric attendance system in on-line communication, by using the internet technology called Web Service communication method. The Synergy terminal runs a permanent communication with the server, by asking for updated information and loading the employee's swipe card data in real time.
The Synergy terminal is fully applicable by Synel software such as Harmony and Sy-Bridge, the terminal will update its application by connecting to the server and starting a communication session with the Biometricon-Line software
On the other hand Synergy terminal is also designed for off-line to our distributors that prefer updating the terminal application once and getting the data every few days.
Synergy terminal is the attractive Biometric attendance system for any requirements, the terminal can run as a full off-line device that runs via the flash memory disk or fully on-line against the server and compatible software (such as Harmony and Synergy)
This type of terminal is very simple and friendly for businesses that are looking for hardware, with a variety of development tools.
For more details and for a Biometric Attendance System price, please Contact Us.