Smartphone workforce Solution
Harmony Smart the Smart time and attendance Solution By installing Synel Smart time and attendance application will improve your organization attendance reporting with a friendly Smartphone Application and easy attendance Reporting for In or Out, and much more. Synel Time and attendance smartphone application available at Android and Apple store, the application reporting to the Harmony Cloud the employee's attendance and GEO location. Employees may report attendance and future absence for booking Vacations, Doctor or any other absence reason. In the end of the period the employee may view and confirm the monthly report. The Smart Phone App Works Online with the Harmony Cloud With Harmony Cloud and Smart you may improve your company employees time management by:
Encourage healthy working habits
Make better choices and decisions
Embrace your advancing technology
Allow your employees more flexibility
Receive accurate data and information
Become a stronger leader in your region
Save on all your resources, day after day!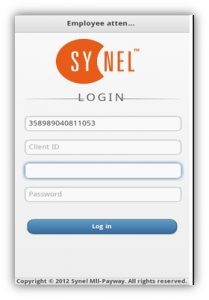 Mr. Erez Buganim, Synel International Marketing Vice President, said that Harmony smart is the ultimate solution for any company that using time and attendance terminals and looking for smart Phone or Tablet solution. Thanks to the Flexibility of the reporting, absence Booking and by allocating the employee GEO location.