Time Clock App – Attendance App: HARMONY Smart
Advanced Time Clock App for your business.
Time Clock App – Harmony Smart is an Attendance App, a reporting tool for field workers moving between sites. Reporting is performed via smart phone or tablet and interfaces directly and fully to the Harmony system.

System Advantages :
Reporting with Time Clock App includes the employee's photo while the location is displayed on a Google Earth map.
Various reporting options for system users according to their user profile.
Restriction of reporting area including a possible deviation.
Possibility to request future absence via Time Clock App, including manager approval or without manager approval.
Flexible planning and defining of reporting application (reporting functions, icons, photo display etc.).
Personnal and Security management (gates control etc.).
The attendance app-Time Clock App is available for Apple and Android devices.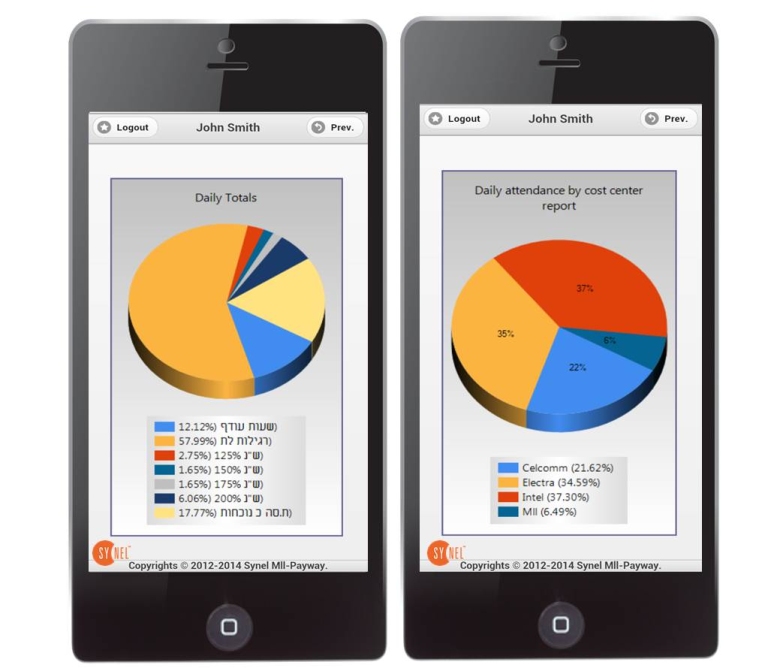 Recently the Attendance app has become very popular and there are many types of applications available on the market
Synel MLL Payway LTD is the leading company in the workforce management industry that provides the attractive attendance app as a simple to use application for SME or a brilliant solution together with many other available attendance modules.
Synel's attendance app has been created to offer a variety of actions and tools for employees that prefer using the attendance app reporting anywhere, any time. The employee can view his own attendance report and ask for future absence.
On the other hand the employer may limit his employees' attendance reporting using GPS location and confirming they are using the attendance app and reporting working times from specific location.
Managers may also use the attendance app report for clocking in and out for their employees, specially designed for construction managers.
This type of application is mostly used by drivers and other employees that work out of the office in the field.