Facial Recognition the friendly attendance reporting
Facial recognition terminals become very popular for employee's time and attendance application, thanks to the simple and friendly employee face capture and recognition.
The facial recognition terminals market grew for attendance reporting and security purposes.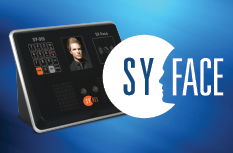 In recent years many companies have chosen facial recognition technology thanks to the simple operation of the system
In some countries there is a problem using finger recognition technology and facial identification solution is the ideal solution for effective identification without the use of tags
Mr. Erez Buganim, Synel International Marketing Vice President, said that Synel just launched a new Facial recognition terminal the SY-910 that is fully compatible with the old Face recognition terminals from Synel and in the latest Harmony and Harmony Cloud software's.
System Advantages:
No tags required
Scanning a real-time 3D image
Simple and friendly employees face capture
High level security scanning