Facial Recognition for Workforce Management
This facial recognition time clock, the SYFace 910 (or SY-910), is Synel's latest Facial Recognition terminal with no-touch technology, a hygienic cost-saving alternative. Add additional levels of security and authentication to the facial recognition time clock by adding badge swipe and/or PIN entry. Use existing badges or start with a new set.
SYFace 910's three-dimensional facial analysis and identification algorithm cannot be fooled by two dimensional images or photographs and is so accurate it can distinguish between identical twins. SYFace 910 is the only biometric method that can provide visual confirmation of transaction records for optimum traceability.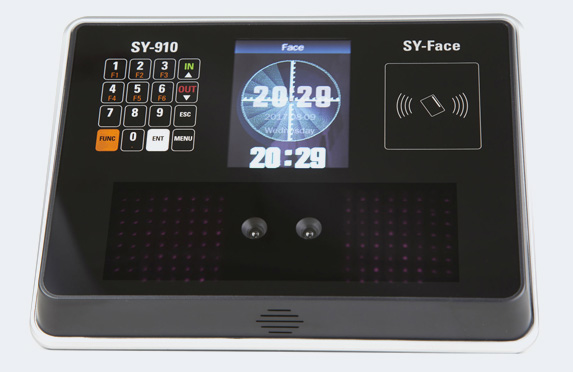 The clock can be programmed with nested functionality or with one/two-touch technology in addition to the look-and-go functionality. There are 6 programmable function keys plus in/out keys to help users manage additional data input like labour levels, departments, piece rate, tips, in addition to in/out for shifts, breaks and lunches.
This clock is also equipped with a USB port for easy data export. Not connected to a network? Pull clock data using a USB device easily from the clock itself. USB ports can offer other added capabilities, including hook up for printer, barcode scanner, etc. Ask your sales representative for custom solutions based on your needs.
Plus, the cloud-based, open-source (Linux, Java app) provides for additional stability with no need for middleware.
Use the clock as-is and purchase our SDK (software development kit) in order to integrate to your existing software solution, or, utilize SY-Bridge technology to harness the SY-910's biometric data capture technology with your own system. If a complete solution is needed, we have several software solutions that can provide a total workforce management solution to work with the SY-910 facial recognition time clock.
Standard features include:
Sleek, sloped design with wall mounting capability
Security alarm/bell
4GB SD card
Speaker
USB port
Numeric keypad
Multiple verification/identification methods:
Face
Pin & Face
Card & Face
Card (Prox, Mifare)
Features
Data capacity: 200,000
Security photo capacity: 200,000
12V DC power
3.5" TFT colour screen
Working temperature between 0-40 degrees Celsius
User-defined Weigand 26/34 output
Communication method: TCP/IP, USB host, WiFi
Printer port/connection (RS-232)
Max user capacity 4,000 employees
Built-in relay contact for door lock, door sensor, exit button, etc.