Improve the efficiency of your mobile workforce management
If you manage a Mobile Workforce outside your company premises, then the best Mobile Workforce Management practices are just an app away with full smartphone reporting.
Smartphone & Tablet SYQR APP for Mobile Workforce Management
Mobile Clocking with Geo location tracking
Expenses management & submission
Absence / Tracking Management
Available for Apple & Android devices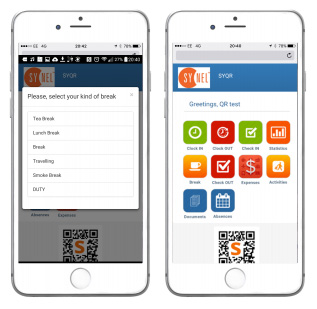 Synel's field service solution SYQR App offers complete mobile workforce management and reporting via smartphone.
Use Geo Location with or without Smart QR Code
Easy to use
Integrates all main T&A operations in one application
Fully integrates the use of TimeLOGWeb, our Synel's complete time and attendance management system.
The SYQR app fully integrates with all the features of the time and attendance software including the use of easy clocking where appropriate and the use of biometric clocks.