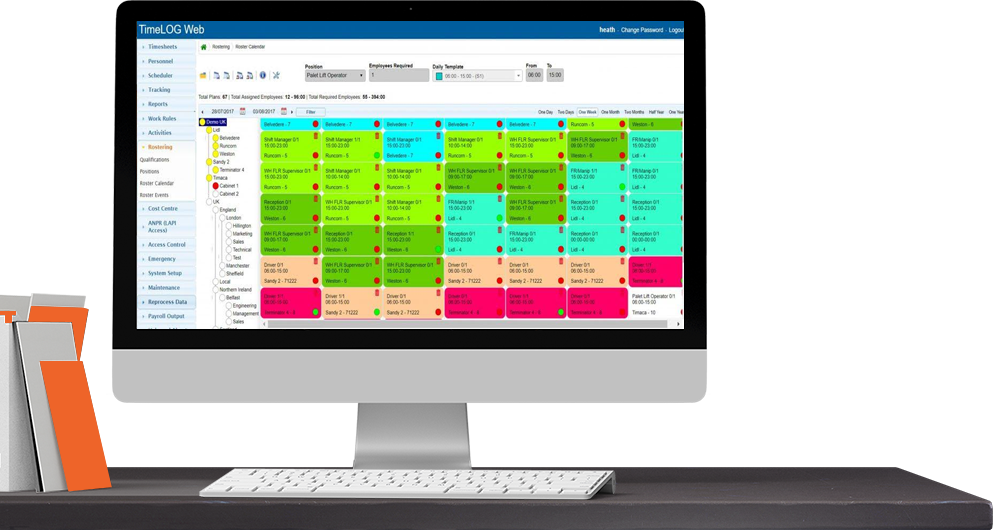 Organise your staff shifts &
save precious time
An encompassing employee time tracking software
Rather than manually organising shifts, TimeLOGWeb's Employee Scheduling Software will help you save precious time planning and organising your shifts and assigning the most suitable people to the job. The employee attendance tracker and management software has a smart assignment algorithm, which is based on constraint optimisation while taking into account employee, company and customer requirements.
Shift Scheduling Software and Time Tracking advantages
Now you can maximise your existing human resource and keep your employees and customers happy – and you can even do this with a simple easy clocking system and it can of course cover all your mobile workforce management needs too.
Save precious time with a user-friendly Graphical Scheduler
Effective Staffing Decisions according to skills, qualifications or availability
Control Labour Costs and staff resources within a budgeted environment
Take advantage of the new intuitive & easy to use features of Synel's Advanced Scheduler:
Create positions and allocate qualifications
Alerts for qualifications expiry dates
Schedule employees to shifts by department/cost centre
Select employees by availability and qualifications
Employees can request shifts in portal
Rota can be send by email or text
Financial and statistical reports