Advanced Harmony cloud management tools
Synel proud to present the new generation of Harmony cloud manager tools.
Harmony the advanced workforce management solution, the most innovative, that integrate employee's data management system in the world. The new generation of Harmony is a fully SaaS solution with many useful and powerful modules for any client size and requirements. One of the significate improvements is the manager front panel that designed for managers that need the time tracking for project costing and total time or missing time in real time.
 Contact us today and get 1 month for free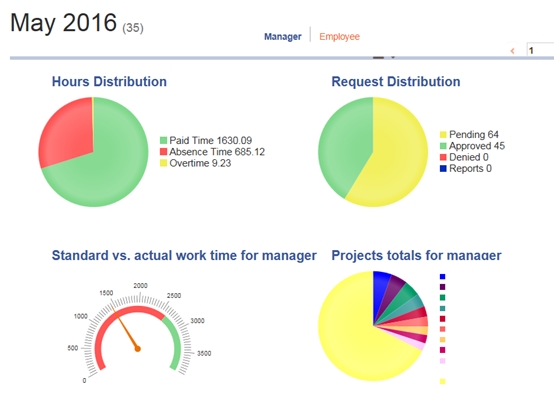 Harmony dashboard designed as a Managers tool that presenting the most important data that every manager should look for, Employees and projects time management.
Managers may change the dashboard according to their needs for employees and department time reporting, project total and missing time reporting. This panel can be designed for group of managers or individual and will present the manager required time summery pie and tables
| | |
| --- | --- |
| | Hour's distribution:Let the manage watch his department / company, total worked time and total absence |
| | Request DistributionLet the manager see how many Pending employees request against the request he already Approved / Denied |
| | Standard Vs. actual work time for manager.One of the important tool that view the total group working time, this toll is very powerful and give the manager information about his employees how many time they worked against the time expected work time. Red side bellow the expected working time, at the green side more then expected. |
| | Projects totals for manager.Very important toll for managers and departments that reporting Projects, this simple pie let the manager watching the time his group worked at each project |