Harmony Smart attendance application
Harmony Smart application is one of the important modules in the Harmony Cloud software,
this module designed for friendly and easy attendance reporting to the Harmony Cloud.  Using the Harmony Smart application, the Employees may report his attendance from the mobile application with his exact location. The application manager may choose the area and the zone that the employee may report.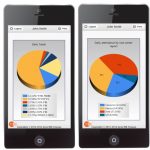 In the end of the period using the application the employees may view, edit and confirm his attendance reporting.
One of the excellent feature in the application is the 'absence' module that allow the Employee reporting for his future absence, date and type of absence.
Another important module is the 'Access Control' that allow the employee to open the door or gate, this module is using the physical GEO location and present the door around the area and let the user open per his permission.
VP of Synel Mall Payway LTD. Mr. Erez Buganim, says that Harmony cloud is a User-friendly Smartphone Application for Reporting Employees attendance that Fully compatible with Harmony Software and Harmony Cloud, the application allow more flexibility for the employees and time management and the app reporting in online for accurate attendance reporting