SYNERGY terminals with camera
SYNERGY the advanced time and attendance terminals from Synel Mll Payway LTD.
Synergy terminal designed for Time and Attendance with many technological features such as: fingerprint scanner for employee's identification or employee's verification, and many type of reader such as standard RF card reader and Mifare technology and the known HID reader.
Synergy using the advanced graphic color LCD screen of 3.5 inches and include a built-in camera 1.3 megapixel that save the following Image formats: 160×120、176×144、320×240、352×288、640×480
The images saved in jpg formats that compatibile with any operating systems:        Windows XP、Windows Vista、Linux、Mac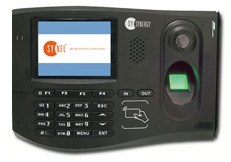 Synergy Camera is very flexible and may be define by the client for picture capture in any step and functinalty that done by the employees
For example when employees swiping card at the terminal or when employee rejected by the terminal for any reason. Many companies using this feature when employees swipe to meal coupon to prevent misunderstanding when the employee is charged for the meals.
For more details and for a Biometric attendance system price, please Contact Us.