the benefits of face recognition attendance reporting
According to the biometric market research it looks like many companies prefer using the Face recognition hardware for employees Time and Attendance and door access control.
The benefits of the face recognition terminal
Simple and easy installation: settings and configuration done by the terminal menu screen.
Attendance and Access: Synel SY-Face terminals are applicable for time attendance and door access.
Touch-Free: unlike the fingerprint hardware that employee should use his finger, the face terminals doesn't require body punch,
Fast and accurate identification: employee should only look at the device for less than a second he will be identified.
Hygienic: Facial recognition technology does not require any physical engagement.
Response time: less than a second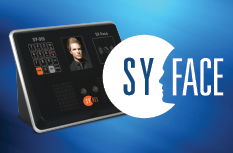 Mr. Erez Buganim, Synel International Marketing Vice President, said that "SYNEL happy as a senior leading terminals manufacturer, has identified a trend in the face recognition technology and was the first to develop this technology in the Attendance and Access market