Why organizations choose Synel Cloud and Smartphone solutions
Facebook and Google analysis confirm!
most online traffic comes fromsmartphone users.
Over the past few years most of our new clients have chosen SYNEL's technology thanks to our Cloud and Smartphone solutions:
Internet remote uploading, feeding, control and viewing attendance data. System Advantages:
Employees can display and edit attendance data;
Managers can approve or deny employees updating request;
Department/branch managers are updated online;
Periodical email alerts of missing attendance data;
Monthly email reminder for data submission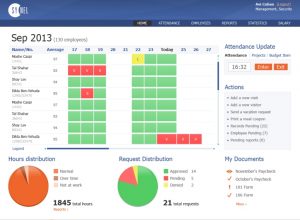 Time & attendance and Access Control Application Reporting is performed via smartphone or tablet and interfaces directly and fully to SYNEL's HARMONY system.
System Advantages :
Reporting includes employee's photo and location;
Various reporting options;
Absence request;
Flexible planning;.
Access Control management;
Available for Apple and Android devices.