Ventrica chose Synel for their flexible and easy to use T&A Solutions. 
An intelligent outsourced customer contact centre which helps deliver more sales, retains customers longer and increase the customer lifetime value.
Background
The major challenge of this project was to install T&A and Access Control Solutions that could adapt to the growing needs of Ventrica. The company is a successful growing customer contact centre that is constantly evolving and launching new departments. Synel's solutions can adapt to the needs of a growing business as it can provide unlimited number of licences.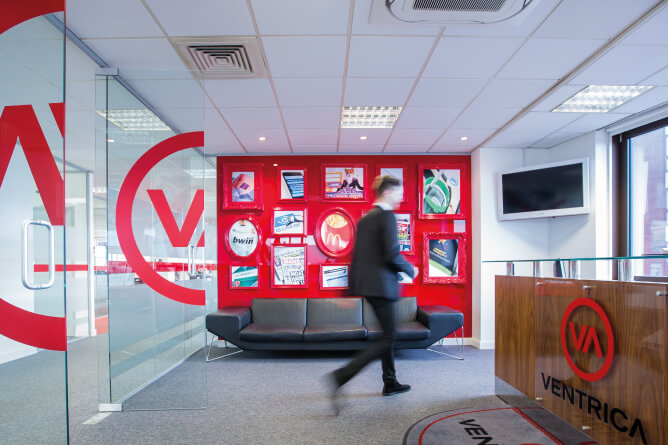 As part of our work, we had to replace the paper clocking system within the client sites with a single modern, accurate, reliable and simple biometric solution, enabling the centralised collection of hours worked. As well as delivering outstanding functionality the solution had to record the attendance of 250 employees and report on hours worked into the payroll system. The system should handle Access Control doors as well as link the doors to the safety alarm. Furthermore, it had to be capable of exporting payroll data to the payroll solution.
Synel's TimeLOGWeb solution proved to be the ideal system as it successfully incorporates time and attendance, scheduling, access control and absence request.
Synel suggested the following modular solutions to the company in order to improve attendance and access control.
TimeLOGWeb software for time and attendance
Link to payroll software
Synergy Mifare time recording terminal
Access control doors
Record Attendance & successfully safeguard premise
After the installation of Synel's systems, Ventrica now benefits from:
Savings as much as 3% of payroll cost
Savings of up to 20% of overtime costs
Safeguarding staff and premises safety
Increased levels of efficiency and reduction of administration work
Regulatory compliance
Synel system records the attendance and presence of any enrolled employee, visitor or contractor utilising a MiFare card attendance terminal. The options for the terminal technology are biometric and the system interfaces to Excel, transferring hours worked if required. The terminal is connected to the Internet utilising TCP/IP connectivity. TimeLOGWeb time and attendance software can be accessed from any internet enabled device.
Flexible and easy to use solutions
As well as removing the issue of manually operating a weekly and monthly payment system, Synel's flexibility and easy to use solution is a major advantage for Ventrica.
All Synel's clients have their own personal customer service managers to turn to, rather than being faced with call centre staff.